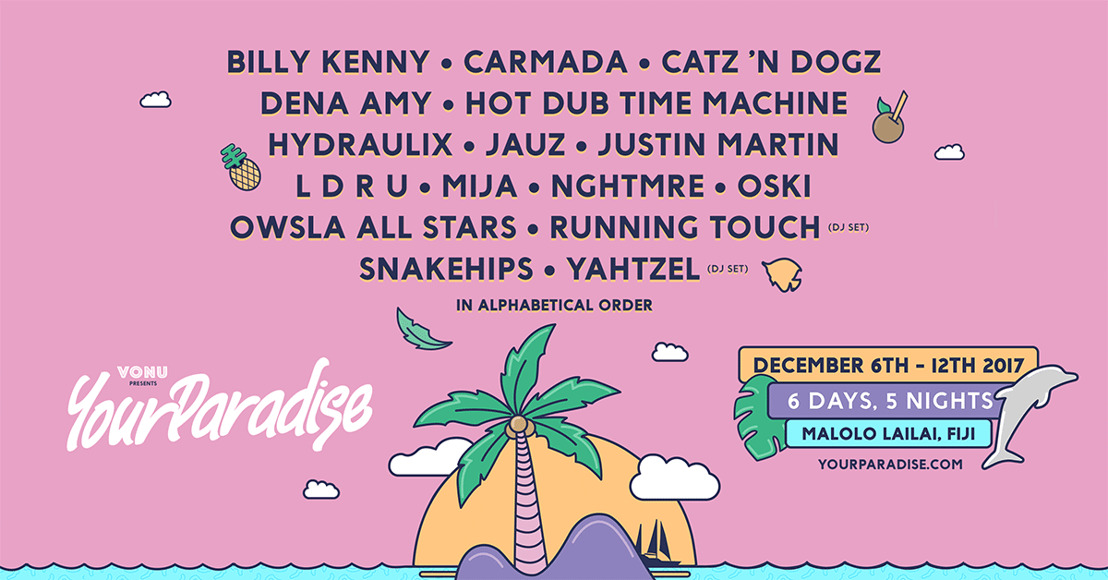 Your Paradise Fiji Presented by Vonu Unveils Lineup for December 6-12 2017 Event
Lineup Includes Billy Kenny, Carmada, Catz 'N Dogz, Dena Amy, Hot Dub Time Machine, Hydraulix, JAUZ, Justin Martin, L D R U, MIJA, NGHTMRE, Oski, OWSLA All Stars, Snakehips, Running Touch (DJ Set), Yahtzel (DJ Set)
Wednesday, May 31, 2017 — Stream Your Paradise 2017 Lineup Video: http://bit.ly/2rlQ07E
Your Paradise, Fiji's premiere electronic music getaway, proudly presented by Vonu, has announced the lineup for its fourth edition December 6-12. Set between picturesque white-sand beaches and iconic mid-ocean parties, Your Paradise features an unmatched island environment paired with world-class musical talent from around the world.
The 2017 lineup offers a wide-reaching exposé of electronic's finest including bass music titans NGHTMRE, Mija, Jauz and Snakehips, a who's who assemblage of global House legends featuring Justin Martin, Billy Kenny, Catz 'N Dogz, and Dena Amy, plus leaders of the momentous Australian movement
Hot Dub Time Machine, L D R U, Carmada, Hydraulix, Oski, Running touch (DJ Set), and Yahtzel (DJ Set). Your Paradise 2017 will also welcome the return of the OWSLA All Stars following the crew's triumphant invasion of the 2016 edition - further securing the event's reputation as an unsurpassed vacation for fans and artists alike. Special guests are also set to be announced ahead of the event.
Your Paradise remains as much about its setting as its finely curated programming, offerings attendees free reign to explore all that Fiji has to offer. The event's fully functioning resort home offers the chance to surf some of the world's finest breaks, snorkel amongst local wildlife, or just spend the day relaxing on the pristine beach. Fiji's natural beauty extends into Your Paradise's reputation setting party environments as fans find themselves dancing on mid-ocean sandbanks, seeing their favorite DJ on a floating 100 person venue, or tearing through the crystal clear ocean on the nation's largest catamaran.
Also released today is a lineup teaser video highlighting the outrageousness that this event has cut its teeth on. Watch for a glimpse of the panoramic ocean backdrops, vibrant Fijian sunsets, and unforgettable venue settings that have made Your Paradise a party to watch on the global electronic music circuit: http://bit.ly/2rlQ07E
With the momentum of its strongest soirée yet behind it and its newfound positioning in the global spotlight, Your Paradise has entered 2017 as a beacon of hope for those seeking a truly unique destination travel experience. With only 600 spots total and packages selling quickly, those looking to make it to this iconic event must act quickly to secure their place in Paradise.
For More Info and Tickets to Your Paradise:
http://yourparadise.com/
Download Your Paradise 2017 Lineup Flyer:
Watch the Your Paradise 2017 Lineup Video:
http://bit.ly/2rlQ07E
Stream Your Paradise's 2017 Lineup Playlist on Spotify:
http://spoti.fi/2rVRl7P
Download Photos from Your Paradise 2016:
http://bit.ly/2qBpjyp
Credit: MyMediaSydney
Your Paradise 2017 Lineup (ABC) Billy Kenny
Carmada
Catz 'N Dogz
Dena Amy
Hot Dub Time Machine
Hydraulix
JAUZ
Justin Martin
L D R U
MIJA
NGHTMRE
Oski
OWSLA All Stars
Running Touch (DJ Set)
Snakehips
Yahtzel (DJ Set)
Follow Your Paradise:
FACEBOOK
TWITTER
INSTAGRAM
SPOTIFY
Praise for Your Paradise:
inthemix: "Your Paradise is more than just a festival (in fact, organizers shy away from using that very word) and more a week-long holiday that happens to include a bunch of first rate DJs...After all: it's your paradise."
Dancing Astronaut: "There are destination festivals and then there's Your Paradise...Your Paradise is currently one of the most remotely set and intimately produced festivals in the world."
Uproxx: "Skrillex was there. So was Anna Lunoe. They danced on the biggest catamaran in Fiji and basked on tiny sandbars. They also did all of the awesome things that are Fiji particular — like having a traditional kava ceremony".
Mixmag: "...boat parties, beach raves and late night excursions in a sun-kissed environment not found at the typical summer festivals."
THUMP: "...one of the more unique festival experiences I've ever taken in. It took the concept of destination festival to such lengths that, at times, I was more interested in the destination than the festival itself. That's not a knock, either, that's kind of the way it's supposed to be, and it's not something I've seen any other festival achieve."